hihi!! another place that i've been wanting to visit since forever. more specifically, since about 2 years ago when i popped by this place as one of those in the list for Gourmet Club's food guide to eating places around school. now that was such a long time ago. i had so much fun helping out with that publication :) anyway, the last time i went there, i didn't get to try any food, but everything looked so good that i vowed to come back. and i finally did, two years later. gosh. and i'm so glad to announce that it hasn't disappointed at all! ^^
artichoke's brunch menu is a pretty short one, but what makes it so special is its middle eastern influences. now, where else can you find a middle eastern brunch? in singapore, it ain't easy to find one. okay perhaps you can find it at
Wild Honey
, but i do find that place slightly overrated. anyway, back to our breakfast...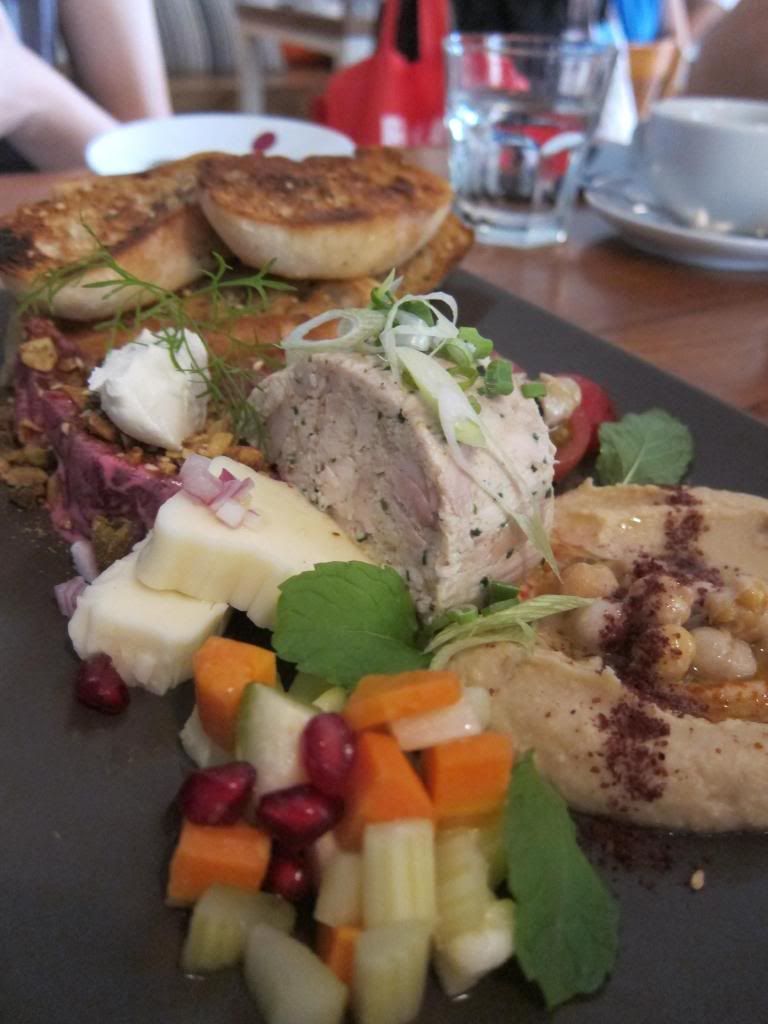 possibly our favourite of the lot had to be the Brunch Mezze ($26). it actually refers to a selection of little things, which i believe changes on a regular basis as you have to refer to a blackboard for the description. not sure whether the price changes accordingly as well. our Mezze consisted of a chickpea and sesame hummus, tzaziki of beetroot with pistachio dukka, terrine of smoked chicken, picked white anchovies and tomatoes, turkish spring cheese, mixed pickles and za'atar toast. now doesn't that sound scrumptious! loved the hummus, which released the essences of middle eastern flavours into our mouths and went perfectly with the toast. the cheeses too, were delicious when paired with the toast. have i mentioned how much i LOVE middle eastern breads? they are always flavoured with incredible spices that make them so tasty on their own, and they go with practically anything on the platter!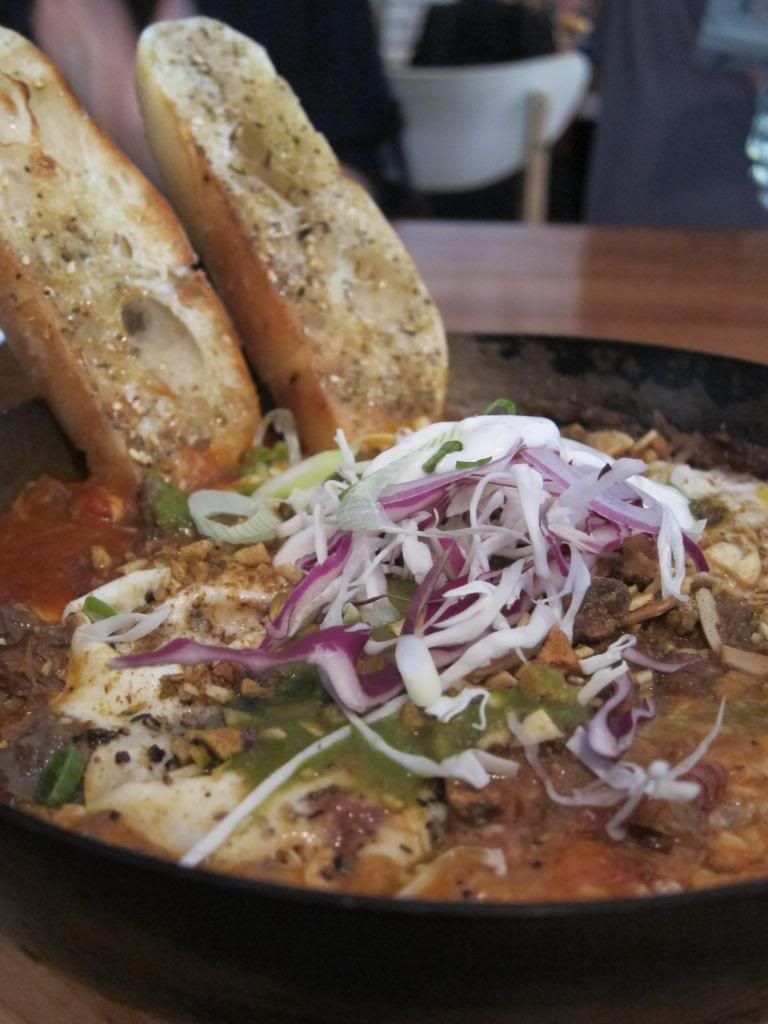 the lamb shakshouka ($25) is one of the most popular items on the menu, and even though i don't really eat lamb, i have to say that this was one tasty dish! i was totally drawn by the two runny eggs sizzled in spiced tomato sauce with kashkaval cheese and lamb, with pistachio dukka. and guess what, more toast! dipping the toast into this sizzling mess was simply divine.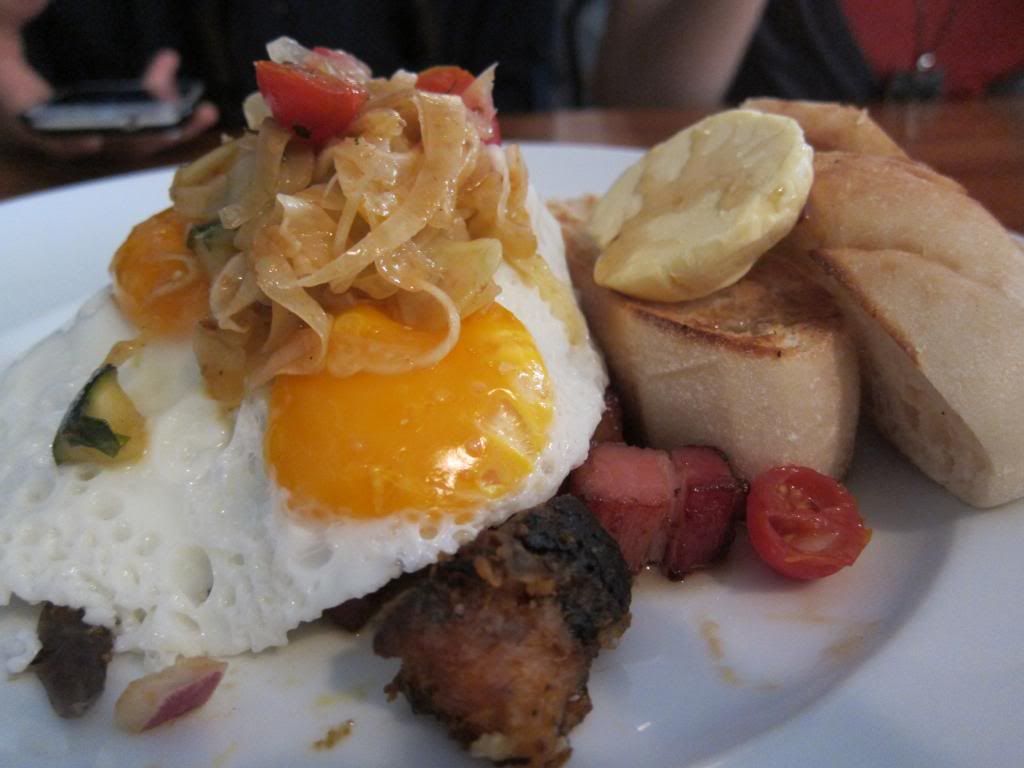 a slightly less middle eastern-ish dish we had was the sweet potato and bacon hash ($23) and it was so so so amazingly delicious! gosh, it is actually impossible for me to pick a favourite dish from this place because i enjoyed everything so much! this looks pretty similar to a typical brunch dish, but it really isn't. the bacon was super interesting - my first time ever seeing thick cut bacon, and it was delightfully bouncy and oozed just the right amount of fats to make it juicy, yet not feel too sinful. the sweet potatoes were fried to perfection and this was all topped with sunny side up eggs, and toast with Jim Beam bourbon butter. mouth-watering? you bet it was!
in contrast, the most middle eastern dish we had was the Ful medames ($17), which was an aromatic, hearty egyptian fava bean stew with a dollop of soft egg in the midst of it (i do love their eggs so much too!), with toast to go along with it. again, it was just so gratifying to mop up all the goodness with the delicious slices of toast. so satisfying.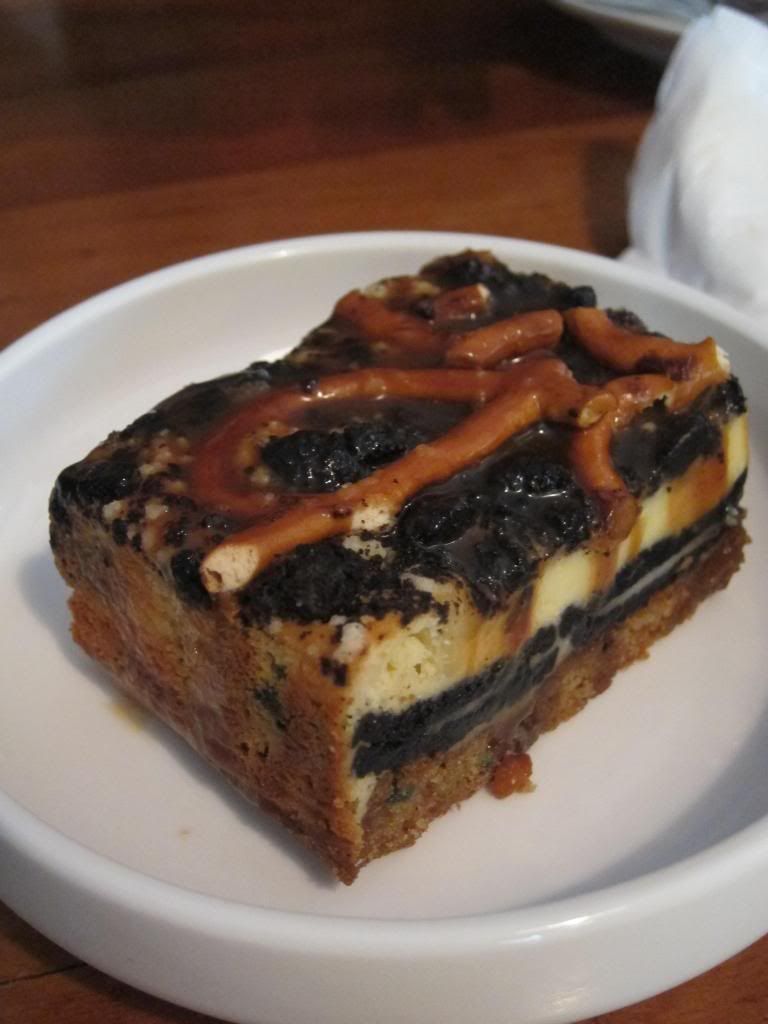 and as if we hadn't had enough, we ordered dessert!! Overdoughs is the sister bakery of Artichoke, and it's located right at the entrance of the restaurant. now look at that picture. this was on display. how on earth could we resist it??!! i was completely stuffed by this point, but being greedy as usual, i helped us order not just one, but TWO desserts :p well my "saving grace" was that i knew mummy would definitely prefer the other dessert, while i was sure we would all like this one, so we had to get both, didn't we? haha. this was a gorgeous oreo cheesecake block with cookie dough, marshmallow and caramel ($4.80). like i said, impossible to resist. it was every bit like the description. luscious and rich, it screamed "eat me!!" and we devoured it within five minutes.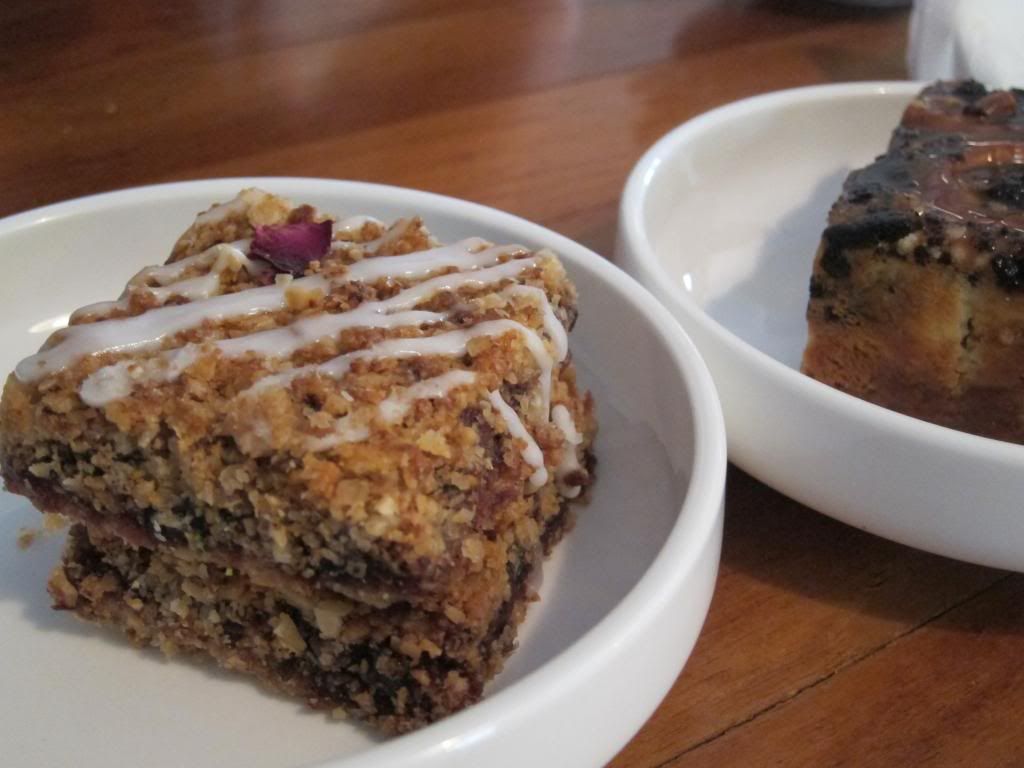 our other dessert, cashew cranberry slice with rose cream ($3.60) sounded so pretty! bathed in a perfume of rose, we ate this dessert daintily (contrasting with our barbaric attack on the former), and we were rewarded with the combination of sweet essences spreading through our mouths. such a happy dessert! :) we loved it so much.
this has got to be one of my most satisfying brunches ever, and a unique one too! hopefully i'll be back to try their dinner sometime ;)
Artichoke Cafe & Bar
161 Middle Road
Tel.: +65 6336 6949
Tue-Fri 6.30pm-9.45pm
Sat 11.30am-2.45pm, 6.30pm-9.45pm
Sun 11.30am-2.45pm